Sixth Beer of Christmas 2019: Great Divide Hibernation Ale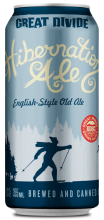 On the Sixth Day of Christmas, my brewer gave to me... Great Divide Hibernation Ale!
Folks in Colorado know that there are months of cold weather ahead after the presents are unwrapped. As such, Denver's Great Divide Brewing released a beer to carry us through the long, cold winter.
Hibernation Ale is an English-style old ale, a hearty beer with rich, layered malt flavors and enough strength to brace us through those dark, cold evenings. This beer has been brewed since 1995 and has won multiple awards. It's perfect to enjoy as your Christmas Eve nightcap, but be sure to hold onto enough cans to last till spring.
The Beer
This robust, dry-hopped ale has a malty richness balanced with a complex hop profile and hearty, warming character. This beer is best paired with grilled beef tenderloin, Roomano (an aged Dutch cow's milk cheese), and apple crisp with ginger ice cream.
The ABV is 8.7%.
Step back in time at the Historic Odessa's annual holiday celebration - a seasonal tradition of interpreting scenes from classic literature. This season our celebration lasts through December 31, 2019.
This year's theme is based upon the classic novel, The Secret Garden, written by the English novelist and playwright Frances Hodgson Burnet. Be delighted with vignettes that include depictions of famous scenes from the novel in the Corbit Sharp House, c. 1774. Rejuvenate your spirit this Christmas by touring this memorable exhibition.