Seventh Beer of Christmas 2019: Alaskan Brewing Hopothermia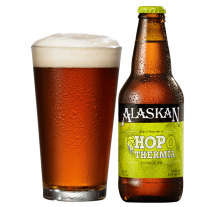 On the Seventh Day of Christmas, my brewer gave to me... Alaskan Brewing Hopothermia!
Much of the history of Hypothermia is lost in the mist of time. Alaskan Brewing knows that the windswept lone brewer dreamt of a Double IPA so bold and packed full of hop flavor that it could keep the wild wolves from the door of his remote cabin.
Legend has it that he first came up with this beer, with the help of his woodland friends, to fight against the long frigid winter nights endured by all of the pioneers of the Last Frontier. 
The Beer
This American Double India Pale Ale, or IPA, is as big and bold as the mythical lone brewer himself. It is a full-flavored representation with a robust malt body resting in easy harmony. Nugget and Apollo hops added in the brew kettle provide a green, floral aroma and citrus hop base, while the later addition of Amarillo, Citra, and Centennial hops add notes of spicy grapefruit and orange – complimenting the resilient malt profile.
The ABV is 8.5%.
Step back in time at the Historic Odessa's annual holiday celebration - a seasonal tradition of interpreting scenes from classic literature. This season our celebration lasts through December 31, 2019.
This year's theme is based upon the classic novel, The Secret Garden, written by the English novelist and playwright Frances Hodgson Burnet. Be delighted with vignettes that include depictions of famous scenes from the novel in the Corbit Sharp House, c. 1774. Rejuvenate your spirit this Christmas by touring this memorable exhibition.