Seventh Beer of Christmas 2017: Golden Road Gingerbread Stout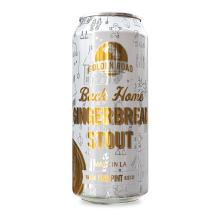 On the Seventh Day of Christmas, my brewer gave to me... Golden Road Back Home Gingerbread!
Relax next to an open fire and enjoy Golden Road's dark, roasty Imperial Milk Stout. Balanced with whole and ground ginger, cinnamon, nutmeg, cloves, cardamom, and vanilla that signal the winter holiday season.
The Back Home Gingerbread stout gives all the flavor and spices of a gingerbread cookie, making it the perfect winter warmer to share with your closest friends and family back home.
The Beer 
This Imperial Stout is brewed with spices and a medley of malt, including 2-Row, Crystal Extra Dark, Chocolate malt, Carafa 3, Roast Barley, Carafoam, and Rolled oats. Bittered with Bravo and Northern Brewer hops, the Back Home Gingerbread stout has a spicy, dry finish.
The ABV is 8.5%.
Step back in time at the Historic Odessa's annual holiday celebration - a seasonal tradition of interpreting scenes from classic literature. This season our celebration lasts from November 14 through December 31, 2017.
This year's theme is Clement Clark Moore's, A Visit From St. Nicholas. This delightful story published in 1822, often referred to as "Twas The Night Before Christmas", will be recreated again in the Wilson-Warner House, c. 1769.