Second Beer of Christmas 2017: Bells Christmas Ale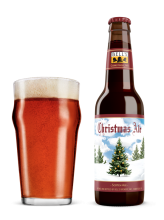 On the Second Day of Christmas, my brewer gave to me... Bell's Christmas Ale!
Bell's Christmas Ale is certain to make any occasion festive, or at least a bit more bearable. This traditional Scotch Ale is rich and malty with notes of caramel and a warm finish. Bell's Christmas Ale is the perfect beer to enjoy with the company of friends and family.
The Beer
Bell's Christmas Ale is a deep reddish ale that combines toasted malts, cinnamon, and caramel. The aroma is reminiscent of toffee, pine, and sugar. This beer is best paired with roasted light meats, pork, turkey, root vegetables, parsnips, cauliflower, pecans, gruyere cheese; or is you have a sweet-tooth, pears, apples, butter pecan ice cream.
The ABV is 7.50%.
Step back in time at the Historic Odessa's annual holiday celebration - a seasonal tradition of interpreting scenes from classic literature. This season our celebration lasts from November 14 through December 31, 2017.
This year's theme is Clement Clark Moore's, A Visit From St. Nicholas. This delightful story published in 1822, often referred to as "Twas The Night Before Christmas", will be recreated again in the Wilson-Warner House, c. 1769.