Oak-Aged Noble Rot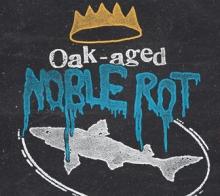 Noble Rot is a head-on collision of the beer world and the wine world… aged in oak.
This saison-esque science project from Dogfish Head gets complexity and fermentable sugars from the addition of two unique white wine grapes, sourced from Alexandria Nicole Cellars in Prosser, Washington.
One of the grapes used, the viognier, is infused with botrytis, a benevolent fungus. Under the right conditions, this opportunistic fellow traveler imparts a special sweetness and complexity to wine (hence its traditional appellation, "noble rot")… and, for the first-time ever, beer.
Like any fine wine, this beer is aged—for a year in oak barrels, no less. The result is a a hazy ale with a spicy white wine body and a dry, tart finish.