Ninth Beer of Christmas 2019: North Coast Brewing Cranberry-Quice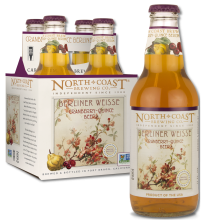 On the Ninth Day of Christmas, my brewer gave to me... North Coast Brewing Cranberry-Quice!
If you're throwing a festive Christmas brunch for a group, North Coast's Cranberry-Quince Berliner Weisse is a great beer to start the holiday off right. It was determined that quince trees offer a subtle sweetness that would be the perfect complement to the tanginess of Oregon cranberries.
The unique blend of cranberries and pear-like quince creates a fragrant and fruity Berliner Weisse that will be a delightful crowd pleaser for any Christmas brunch.
The Beer
The third offering of this spontaneously soured seasonal Berliner Weisse series, Cranberry-Quince Berliner Weisse is made with the juice of Oregon cranberries and the pear-like quince — the perfect accompaniment for all your seasonal celebrations!
The ABV is 4.1%.
Step back in time at the Historic Odessa's annual holiday celebration - a seasonal tradition of interpreting scenes from classic literature. This season our celebration lasts through December 31, 2019.
This year's theme is based upon the classic novel, The Secret Garden, written by the English novelist and playwright Frances Hodgson Burnet. Be delighted with vignettes that include depictions of famous scenes from the novel in the Corbit Sharp House, c. 1774. Rejuvenate your spirit this Christmas by touring this memorable exhibition.