Fourth Beer of Christmas 2017: 21st Amendment Fireside Chat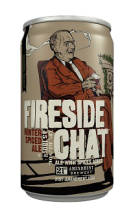 On the Fourth Day of Christmas, my brewer gave to me... 21st Amendment Fireside Chat!
Inspired by FDR's Depression-era radio addresses, which were like a kick in the butt and a hug at the same time, Fireside Chat is a subtle twist on the traditional seasonal brew. Brewed like a classic Strong Ale but with a subtle blend of hand-selected spices, Fireside Chat has just the right amount of festive flair for the holiday season.
This spiced English-style ale is a wonderful winter warmer, instantly transporting you back to simpler times.
The Beer
The conglomerate of malts, including Pale, Munich, Wheat, Crystal, Aromatic, Chocolate Malt and De-Bittered Black, lends to the unique mix of spices and cocoa nibs that makes Fireside Chat a pleasant, warm, and seasonal beer. The warmth and sweetness of the malts is easily anchored to the Magnum and Goldings bitters, making the alcohol stealthy but potent.
The ABV is 7.9%.
Step back in time at the Historic Odessa's annual holiday celebration - a seasonal tradition of interpreting scenes from classic literature. This season our celebration lasts from November 14 through December 31, 2017.
This year's theme is Clement Clark Moore's, A Visit From St. Nicholas. This delightful story published in 1822, often referred to as "Twas The Night Before Christmas", will be recreated again in the Wilson-Warner House, c. 1769.