Fifth Beer of Christmas 2017: Revolution Fitmas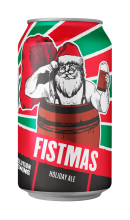 On the Fifth Day of Christmas, my brewer gave to me... Revolution Fitmas!
Revolution's holiday red ale is steeped with ginger root and orange peel, resulting in a beer with aromas of fresh baked bread, caramel, and stone fruits. Fistmas was brewed with specialty malts to achieve a beautiful deep red hue.
With a flavor that seems right at home in the holiday season, Fitmas is sweet and spicy with gingerbread and cinnamon tones.
The Beer
This medium bodied ale is herbal and earthy. There is a balance between the bready malts and the slight bitterness. 
The ABV is 6.5%.
Step back in time at the Historic Odessa's annual holiday celebration - a seasonal tradition of interpreting scenes from classic literature. This season our celebration lasts from November 14 through December 31, 2017.
This year's theme is Clement Clark Moore's, A Visit From St. Nicholas. This delightful story published in 1822, often referred to as "Twas The Night Before Christmas", will be recreated again in the Wilson-Warner House, c. 1769.