Eleventh Beer of Christmas 2018: Sierra Nevada Celebration IPA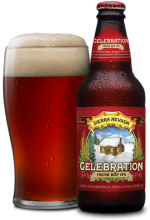 On the Eleventh Day of Christmas, my brewer gave to me... Sierra Nevada's Celebration IPA!
This season delivers the perfect harmony between malt and fresh hops. It's a welcome variation on traditional spiced winter beers.
First brewed in 1981, Celebration Ale is one of the earliest examples of an American-style IPA and one of the few hop-forward holiday beers. Famous for its intense citrus and pine aromas, Celebration is bold and intense, featuring Cascade, Centennial and Chinook hops. 
The Beer
Celebration is an American IPA, which flawless combines Fresh Ale Hops with Two-row Pale and Caramel malts. This clean, crisp IPA pours a nice amber color with a fluffy white head. The aroma of fruity and piney hops wonderfully match the taste of citrus, caramel, bread and malt. 
The ABV is 6.8%.
Step back in time at the Historic Odessa's annual holiday celebration - a seasonal tradition of interpreting scenes from classic literature. This season our celebration lasts from November 14 through December 31, 2018.
This year's theme is based upon the classic novel, A Christmas Carol, In Prose, Being a Ghost Story of Christmas, by Charles Dickens. This special exhibit celebrates the 175th anniversary of the story first published in 1843. Be delighted with vignettes that include depictions of famous scenes from the novel in the Corbit Sharp House, c. 1774.