Eleventh Beer of Christmas 2017: Two Roads Holiday Ale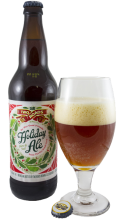 On the Eleventh Day of Christmas, my brewer gave to me... Two Roads Holiday Ale!
Two Roads Holiday Ale is the perfect meal-time beer. Oftentimes a beer will detract from flavorful food, but not Holiday Ale; it simply enhances what you eat. The smooth finish and drinkability of this ale lends itself to whatever dishes you decide to put on your table for the holiday season. 
Two Roads Holiday Ale is inspired by the little known Biere de Noel style, a subset of Biere de Garde, both of which originated on small farmhouse breweries in northern France. In its native France, this special type of ale is brewed by just a handful of small breweries in the few weeks leading up to Christmas.
The Beer 
With a distinct and complex flavor profile that includes touches of cinnamon, brown sugar and malts, the taste is nicely balanced and rounded. Two Roads Holiday Ale is incredibly smooth for such a wonderful and complexly drinkable Christmas beer. It is a soft, subtle complement beer that belongs at the table during a serious feast.
The ABV is 7.3%.
Step back in time at the Historic Odessa's annual holiday celebration - a seasonal tradition of interpreting scenes from classic literature. This season our celebration lasts from November 14 through December 31, 2017.
This year's theme is Clement Clark Moore's, A Visit From St. Nicholas. This delightful story published in 1822, often referred to as "Twas The Night Before Christmas", will be recreated again in the Wilson-Warner House, c. 1769.