Eighth Beer of Christmas 2019: Upslope Brewing Spruce Tip IPA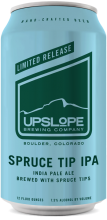 On the Eighth Day of Christmas, my brewer gave to me... Upslope Brewing Spruce Tip IPA!
Just like hearing Christmas music in January, holiday specific beers face challenges once the celebration has subsided... As such, Upslope Brewing Co felt like there was a great opportunity to create a unique, winter-inspired IPA that could reliably follow you to the ski slopes, ice walls, hockey ponds, and hot tubs when the snow is falling.
Brewed with hand-picked, Colorado spruce tips, their medium-bodied Spruce Tip IPA features a more intense malt character than you might expect from a traditional American IPA. Cascade and Simcoe hops accent the spruce tips piney notes and add a hint of orange citrus to this winter IPA.
The Beer
Brewed with premium American malt, Cascade and Simcoe hops, and hand-picked Colorado spruce tips, our winter IPA is highlighted by notes of candied orange peel and fresh pine needles supported by a sturdy malt backbone.
The ABV is 7.5%.
Step back in time at the Historic Odessa's annual holiday celebration - a seasonal tradition of interpreting scenes from classic literature. This season our celebration lasts through December 31, 2019.
This year's theme is based upon the classic novel, The Secret Garden, written by the English novelist and playwright Frances Hodgson Burnet. Be delighted with vignettes that include depictions of famous scenes from the novel in the Corbit Sharp House, c. 1774. Rejuvenate your spirit this Christmas by touring this memorable exhibition.