Arctic Summer Variety Pack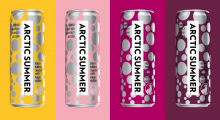 The sparkling refreshment of seltzer with the relaxed drinkability of 5% ABV. Arctic Summer spiked premium seltzer is gluten-free, low carb and made with natural fruit flavors and essences provided by Polar Beverages.
The Variety Pack contains three cans of each of our flavors: Black Cherry, Raspberry Lemonade, Ruby Red Grapefruit, and Pineapple Pomelo.
Contains 110 Calories, 0g fat, 1g Sugar, and 3g Carbs in 12-oz Slim Cans.