Elite Eight Advance to Quarterfinals of Odessa Brewbracket

After 2,756 fans voted for their favorite breweries, the second round of the Odessa Brewbracket closed with eight winners that have proven to be fan favorites by popular vote.
Four of eight past finalists have made it to the 2018 Odessa Brewbracket Quarterfinals. 
See the full Brewbracket » [1]
With your passionate votes, below are the breweries that won your favor!
In Round 2, Dogfish Head won by 23 votes against Cape May Brewery, showing that their passion for fresh and delicious beer hasn't failed yet.
16 Mile inched to the next round with 21 votes over Volunteer, making it clear that their bold session ales are a fan-favorite winner. 
Winner of the 2016 & 2017 #OdessaBrewbracket, Blue Earl again proved its popularity by maintaining a staggering 139 vote lead against River Horse. It looks like they have their eye on the prize!
In the last round, Tröegs scrapped by with a close victory against 2SP, winning by only 6 votes. Tröegs' fans will have to pick up the slack if they want to win the next round and advance to the Final Four.
Yards gained a 20 point lead over Weyerbacher in a heated matchup, earning a spot in the Elite 8 as a brewery that focuses on artisanal brewing practices inspired by olden British times.
In a close match, Heavy Seas defeated long-time contestant Fordham & Dominion by 7 votes. Fans will have to come out to support Heavy Seas if they want to advance.
Victory's fresh harvest IPAs and Lagers won against Flying Dog's sweet and experimentally strange beers by 28 votes, in a slow but steady victory.
As a first-time contestant, Bellefonte was slotted as an underdog. But now Bellefonte has won two rounds by the hundred vote margin, including last week's win against Mispillion, 249 - 151.
Four Breweries To Advance To Semi-final Round
The winners of the Quarter-finals will advance to the next round, where they'll compete against each other to make it into the Brewbracket Finals.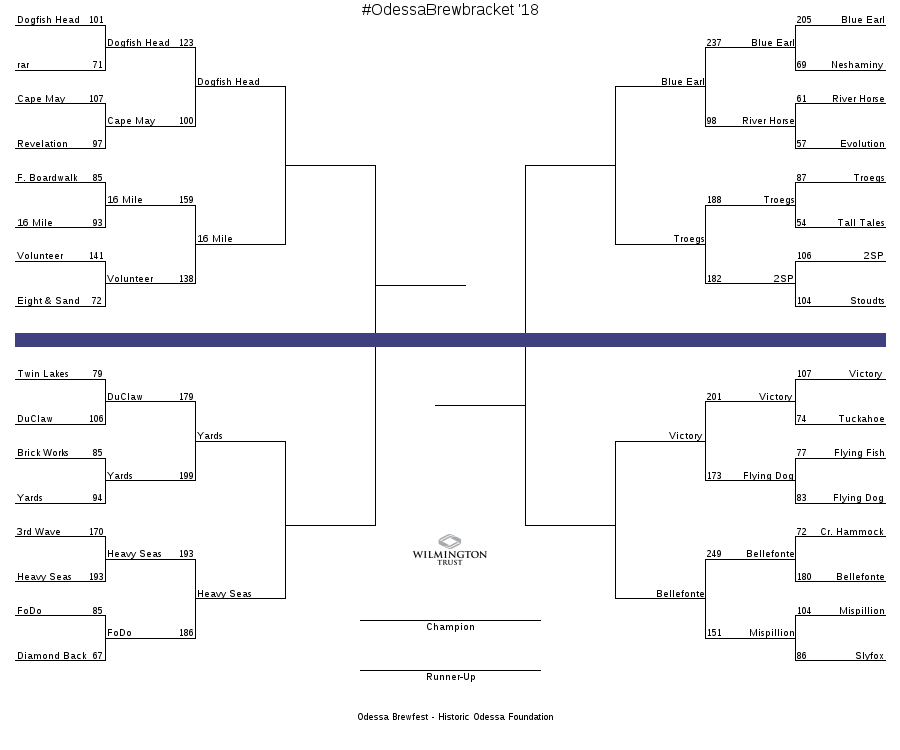 [1]
Who will win? It's up to you! Breweries advance due to popular vote! Even better, like the match-ups on Facebook [6] or Twitter [7] to be entered to win prizes at this year's Brewfest on September 8th. See the full Brewbracket » [8]